Bonjour,
Je ne suis pas sur d'être dans la bonne section du forum en rapport avec le problème que je vais formuler, mais a priori, cela devrait faire l'affaire.
Le problème concerne une traduction de mods qui amène des erreurs sur TES5Edit lors du chargement. Je tiens à préciser que mes recherches sur internet n'ont abouti à rien.
Ce mod ne provient pas des moddeurs de Wiwiland. Seulement, certaines personnes ici ont l'air tout à fait expérimentés dans ce domaine. L'auteur du mod ne connaissant pas le programme, n'a pas su m'éclairer sur le sujet, et donc je m'en remet aux experts !
Mon problème est le suivant :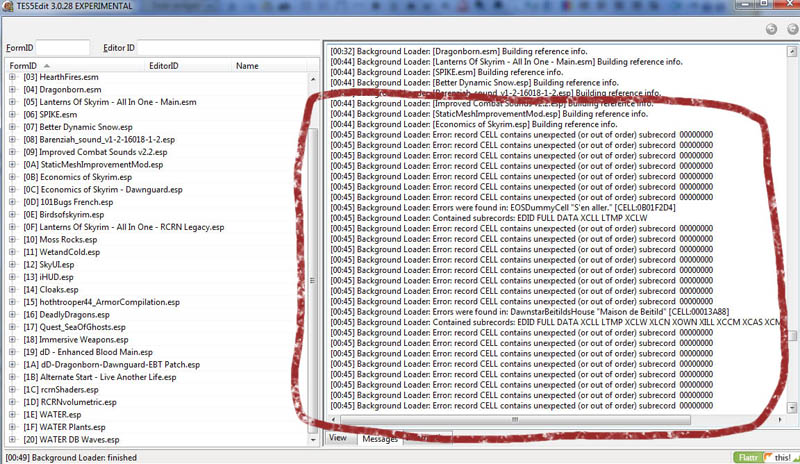 Ce sont des erreurs qui surviennent à cause de la traduction du mod : Economics of Skyrim (Economies de Bordeciel)
La version Originale (en anglais) marche parfaitement bien !
Je ne sais pas ce que veulent dire ces lignes d'erreurs et je ne sais pas d'ou elles proviennent.
Mais j'ai remarqué par ailleurs que ces erreurs aparraissent également sur deux autres mods traduits par l'auteur.
(Birds of Skyrims, et RCRN)
Un souci au niveau du logiciel de traduction utilisé par l'auteur ? Peut être... Je ne saurais dire....
Ma question : Que sont ces erreurs ? Vont-elle compromettre ma partie ?
Si oui, ce serait dommage, mais je préfère dans ce cas jouer avec la VO.
Merci pour vos réponses.
Modifié par Tsu, 26 février 2013 - 21:02.